One Call. One Company.
AC And Plumbing Services From Central Florida's Friendly Experts
Serving Throughout Orlando & Surrounding Areas
Orlando Plumbing & HVAC Company
Experience unparalleled comfort and efficiency with Pro-Tech Air Conditioning & Plumbing Service, Orlando's premier HVAC and plumbing company. Our experienced professionals are dedicated to delivering exceptional work and outstanding customer satisfaction and work hard to keep your home comfortable all year long.
As climate control and plumbing specialists, we pride ourselves on staying ahead of the curve with cutting-edge technology and industry-leading practices. Our technicians are equipped to provide a wide array of services, from routine maintenance and repairs to complete system installations and upgrades. With Pro-Tech, you can rest assured that your home's vital systems are in good hands.
If you would like to schedule a service, give us a call at (877) 416-4727 today!
"He was knowledgeable; he explained to us the gas water heater problem; he gave us the options; and when we decided to get a new water heater he installed it."

- Richard M.
More Reviews
1

Fast, professional service when you need it most.

2

Committed to doing what's best for you.

3

Over 250 years of combined technical experience.
Comprehensive Plumbing & HVAC Services
We offer a full suite of services so that you don't need to worry about hiring numerous companies or seeking out specialists to handle the different issues— our team can handle them all.
Our range of plumbing services includes:
Having issues with your home's heating or cooling systems? We can help you there, as well!
Call our HVAC technicians for the following: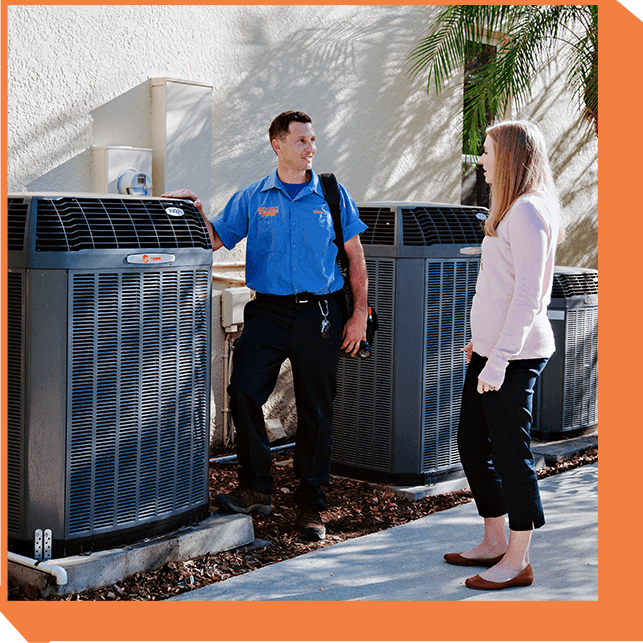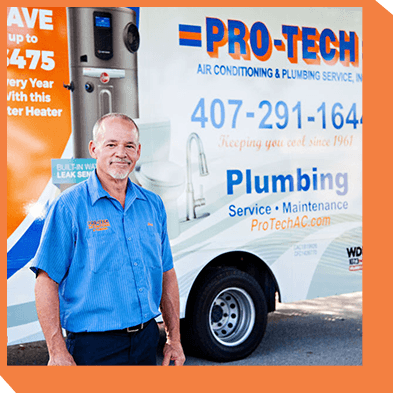 Our Indoor Air Quality Services Are a Breath of Fresh Air
We offer top-notch indoor air quality services that can transform your home into a refuge filled with clean, safe, and odorless air. Forget worrying about airborne contaminants triggering your allergies or asthma or exacerbating a respiratory illness—with the right air quality technology, you can treat yourself to the fresh air you deserve 24 hours a day, 7 days a week.
Our air quality services include:
Humidifiers
Dehumidifiers
We begin by thoroughly evaluating your space to identify potential air quality issues and provide personalized recommendations based on our findings and your needs. Once you've chosen a system that works for you, our technicians will seamlessly install your chosen air quality solutions, ensuring they function optimally and efficiently.
With Pro-Tech Air Conditioning & Plumbing Service by your side, you can breathe easy knowing that your indoor environment is clean, fresh, and free of harmful pollutants.
Stay Up To Date

Expert Tips for Your Home Comfort Systems
Experience You Can Trust
With over 58 years of experience under our belts, we have honed our skills to deliver exceptional service that exceeds expectations. Our certified technicians undergo continuous training to stay up to date with the latest industry advancements so that we can guarantee reliable and efficient results.
Customer Satisfaction Guaranteed
Your comfort and satisfaction are our top priorities. We take pride in our commitment to excellent customer service, ensuring that every interaction leaves you feeling valued and satisfied. Our numerous positive testimonials speak volumes about the quality of care we provide.
AC And Plumbing Services From Central Florida's Friendly Experts
We understand that issues can arise at any time, which is why we offer around-the-clock support. No matter when you need us, our team is ready to resolve any heating, cooling, or plumbing emergencies promptly and efficiently.
To get started, call Pro-Tech Air Conditioning & Plumbing Service at (877) 416-4727 or contact us online.
contact pro-tech today
Servicing All Brands